Cobh is a picturesque town located 30 minutes from Cork City Centre. It is easily accessible from a variety of accommodation providers within Cork City and the East Cork area. For a full list of accommodation providers in Cork we recommend you visit PURE CORK. Following is a list of Hotel accommodation close by and in the greater East Cork area.
COMMODORE HOTEL
An elegant Georgian building, the Commodore Hotel is located directly on the main street of Cobh, overlooking Cork Harbour. Staff at the Commodore Hotel pride themselves on doing their utmost to make your stay a truly memorable one. Whether you would like to enjoy the company of locals in the bar or watch cruise liners dock from the privacy of your own room, they will be on hand to cater for your requirements. They will be only too delighted and proud to discuss the hotel, town history and other interesting visitor attractions nearby. Their aim is for you to enjoy your stay, they want you to come back time and time again.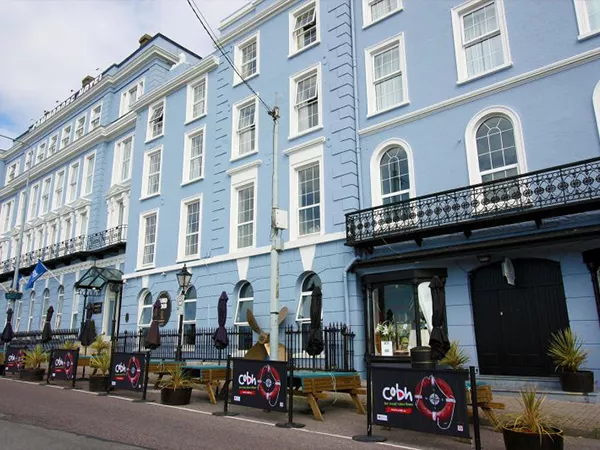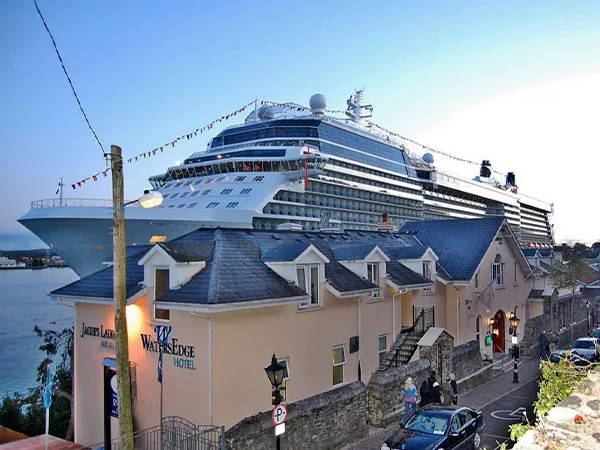 WATER'S EDGE HOTEL
The WatersEdge Hotel is a special venue in every sense of the word. Nestled in the harbour town of Cobh near Cork, and situated on the waterfront, they really have got "rooms with a view". The Hotel commands breath-taking views, spacious, comfortable accommodation and Bistro-style food. Whether you're travelling for business or pleasure, this is the Hotel to come to time after time. As a guest, you will find you are the only focus of their staff and they look forward to welcoming you to Cobh.
BELLAVISTA HOTEL & SELF CATERING
Bellavista Hotel & Self Catering Suites is a luxury 3-star accommodation provider in Cobh. Situated above the picturesque tourist town and overlooking the magnificent Cork Harbour, their accommodation options command some of the best views in town. They pride themselves on offering a wide range of quality and luxury accommodation options to suit all needs. Choose from one of their hotel rooms, each decorated individually or one of their Self Catering suites so you and your family can come and go as you please. They also have a selection of Self Catering Townhouses in Cobh Town Centre. Their suites and apartments range in size from a 1 bedroom sleeping 2 people to an 8 bedroom townhouse sleeping 18. If you are looking for accommodation in Cobh, the Bellavista Hotel is the place for you.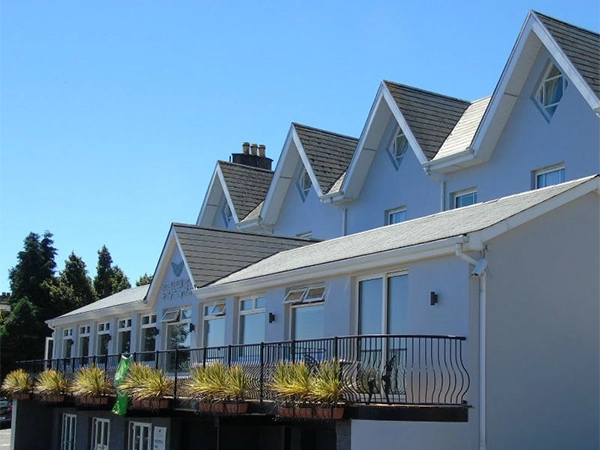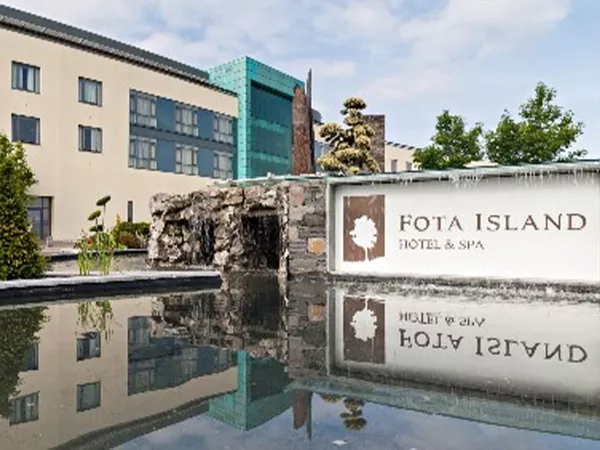 FOTA ISLAND RESORT
Just 6km from Cobh, Fota Island Resort epitomises the luxury and service expected from a 5-star hotel in Cork. As one of the very few resort hotels in Ireland, it is situated on its own private island amidst the tranquillity of Cork Harbour. Stepping into one of the hotel's 131 luxurious en-suite rooms is a memorable occasion. Select from a classic or deluxe room, a number of which come with their own private balcony, or one of the spacious family rooms with an option of an interconnecting door. Keep discovering all East Cork has to offer with Fota Island Resort. Plan your stay your way with a wide range of activities and amenities available for your perfect break away.
RADDISON BLU LITTLE ISLAND
Just 14 km from Cobh you will find Raddison Blu Little Island. The many shops, cafés, and restaurants of the cosmopolitan city of Cork are all within easy reach of the award-winning Radisson Blu Hotel & Spa in Cork. You'll be close to both the town centre and the airport, making our hotel a perfect base for exploring the city and beyond. A 15-minute taxi ride will take you to Cork's bustling centre. Enjoy hearty buffet breakfasts and authentic Irish fare in the contemporary Island Grillroom. At the end of a busy day, relax with a cocktail in the cozy Banks Bar. Keep up with your fitness regime at our Retreat Spa and Fitness Centre, where you'll find a gym, sauna, steam room, and hydrotherapy pool, as well as 9 treatment rooms for the ultimate in rejuvenation.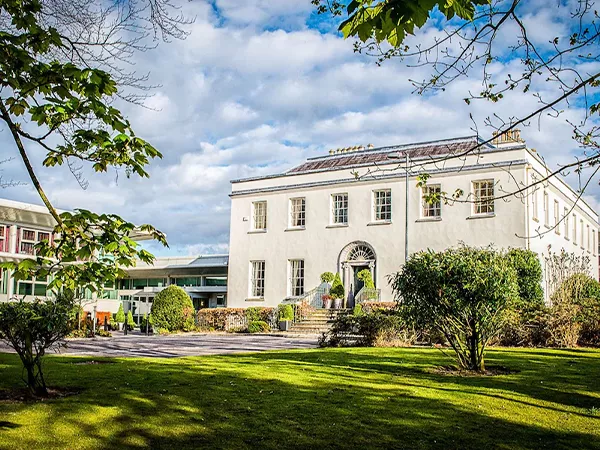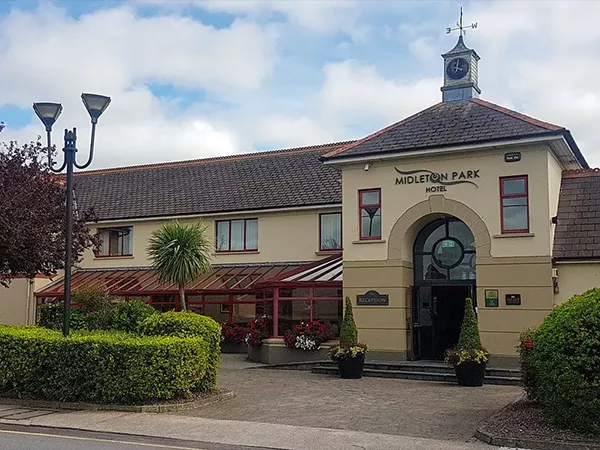 MIDLETON PARK HOTEL
Located in the bustling East Cork market town of Midleton (16 km East of Cobh) is the 4-Star Midleton Park Hotel, part of The Talbot Collection. So easily accessible from Cork City with regular bus and train services, it is also the perfect base to explore East Cork and Ireland's Ancient East. There are 79 guest bedrooms, all of which have been recently refurbished to a fantastic quality, a state-of-the-art Gym and 18 Metre Swimming Pool, complete with a Jacuzzi, Sauna and Steam Room. The Park Bar and The Maltings Restaurant serve food daily and are popular with locals and guests alike. Free WiFi and parking are also available throughout the Hotel.
THE GARRYVOE RESORT
The Garryvoe Hotel offers a beachside setting 33km East of Cobh. There has been a hotel on the beach at Garryvoe since the early 1900s and while the world and that little summer hut have changed beyond recognition, some things have thankfully stayed the same - the golden five-mile beach, the view of Ballycotton and the island, the sea sparkling in the morning sun, and the smiling faces at the Garryvoe. It is an experience put together with loving care – a unique atmosphere that can only be nurtured in a family-owned, independent hotel that has been lovingly cared for through the generations since it opened as one of the first hotels in East Cork.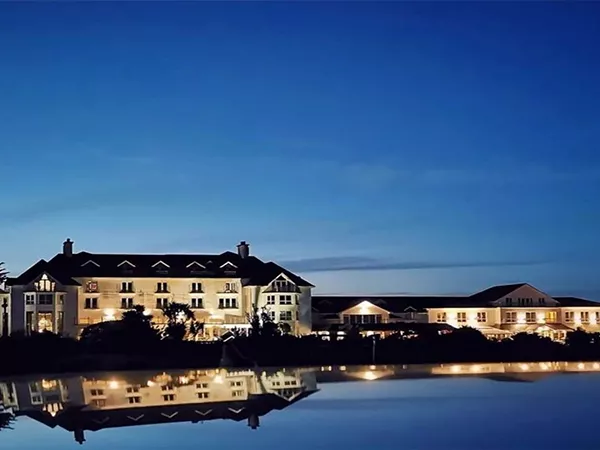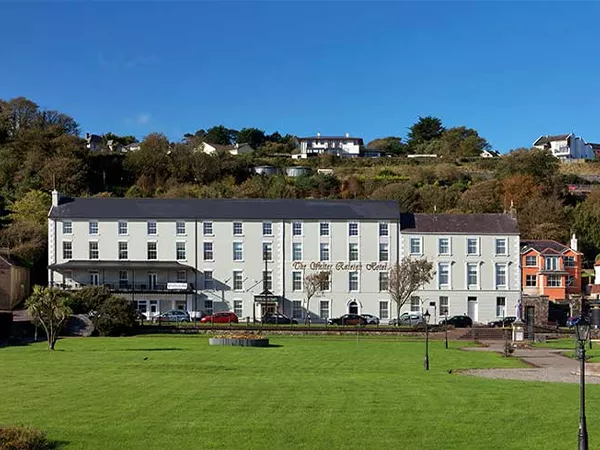 WALTER RALEIGH BOUTIQUE HOTEL
The 18th Century Georgian Walter Raleigh Boutique Hotel is spectacularly located on the seafront promenade in the famous heritage town of Youghal (43km East of Cobh) in East Cork, the gateway to Ireland's Ancient East. Here you are only minutes away from stunning beaches, breathtaking coastline and fascinating heritage. Enjoy the beautiful scenery that our seaside town has to offer. On the seafront with stunning views over the promenade, the Walter Raleigh Hotel overlooks the Atlantic ocean just across from the bandstand at the GreenPark, one of the town's most immediately recognisable beauty spots.
TRABOLGAN HOLIDAY RESORT
With a superb range of self-catering accommodation, Trabolgan is sure to have the perfect holiday home for you! At Trabolgan (34km East of Cobh) they pride themselves on their comfortable, affordable accommodation in a safe, friendly environment complete with CCTV for added peace of mind. It's accessed by well-lit tree-lined walkways and each home comes with a well-equipped kitchen, TV, central heating, bed linen and car parking and is the perfect family-friendly place to relax after an action-packed day.